Welcome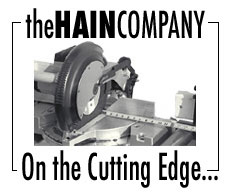 Welcome to The Hain Company's website! Here you will find information about the Hain Company and its line of innovative products that can help streamline your company. Our products are diversely used throughout the manufacturing industry to speed production and reduce labor costs.
News
The New (JSMEA) or Job Site Measuring System has been released for production.
New Videos
Folding Measuring System
Overview:
About the Hain Company
Products:
Hain System Framer
Measuring System (Includes the ELMH and MMEA)
Folding Measuring System
Quick Rafter Cutter
Sub Component Nailer
Vent Block Drill

Hain Racing:
Aluminum Value Cover
Offset Drive

Products
More...
The Hain Company is also a manufacturer's representative for some of the top companies in the component manufacturing industry.
Click here to find out more
Our customers are universally enthusiastic in endorsing The Hain Company and our line of top quality products. Please browse our website or contact us to find out how you can be added to the list of our satisfied customers.